Jumping Box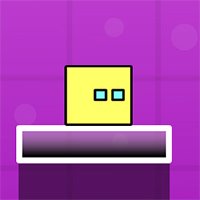 Jumping Box game shares the same idea as Geometry Dash game. You control the small yellow box to jump from column to column to finish. To jump further, you need to hold the mouse to increase the power of the box to pop.
On that road, you will encounter unwanted obstacles. But there are those difficulties that add to the excitement of the game.
You can also meet many stars and grab them as they will save you money on sunglasses, cosmetics and some other belongings.
How to play
Use the left mouse. Tap and hold to control.