Slice The Candy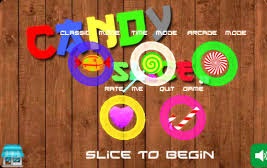 Slice The Candy is inspired by a very famous game, Fruit Ninja game. In Slice The Candy game, you have to slash different colored cubes. The more blocks you slash, the more points you get. However, you will lose 1 life if you mistakenly hit the bomb.
With Slice The Candy game, requires you to be quick to see when the bomb is released. At the same time you also have to be quick to hit the other blocks.
Have fun playing with this game.
How to play
You use the left mouse