Game of Dragons 3D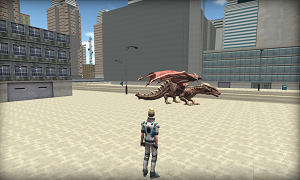 Game of Dragons 3D is a 3D game, you can play for free on the website 1 player games. You live in a peaceful city with friendly people. The peaceful life is broken by a dinosaur. This dinosaur comes to the city and on its way, it will probably step on people and destroy buildings and parks.
You play as a healthy young man who wants to save the city. You track down the dinosaur and find a way to chase it out of town. You embrace the city and find the appearance of the dragon quickly because it is using fire breath to destroy houses, bridges, parks.
Wish you defeat this dangerous dragon and complete the game.
How to play
You use your mouse to orient your gaze in 3d space and use arrows to move.
You use the Space key to jump and the Q key to fly.