MongKEY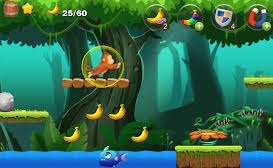 MongKEY is an online game that requires you to have skills to see and control hands. You play as a weapon standing in the middle of a sea of flames. There is no way to escape that siege of flames. You stand on plots of land divided into plots. The dragons continuously blasted those rows and columns of earth.
You need to control the monkey to move to the fields where the dragon will spit fire to escape. There will also be stars on those squares, go ahead and get them.
To win in MongKEY game, you need to be quick to see which cells the fire is about to spray and navigate to see where the monkey moves to the ground without fire.
How to play
You use arrow keys to move.