Skribbl.io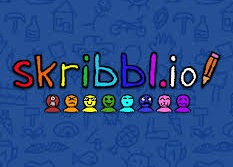 Skribble.io is an io game that you can play online on the computer. This is also an html5 game with a beautifully designed interface.
To play Skribble.io, you will be playing with a group of people. When it is your turn, the screen will show different words. You select any word and start drawing related words so that other players can easily guess the answer.
It is difficult for those who draw badly. But that's okay, the opponent also has many people who can't draw. Mostly you know which suggestion option is easiest for other players.
How to play
You use the mouse to play the game